RIMSKY: A father's artistic legacy and a record of the tumult of 20th century history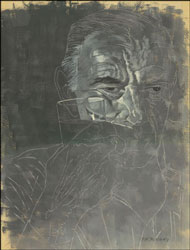 Waterbury Republican-American: Sunday, April 20, 2003
By Tracey O'Shaughnessy, Photographed by Bob Falcetti
WASHINGTON, CONN. — Death stalked Feodor K. Rimsky. It chased him and embraced him, advancing and retreating like the world events that molded his life. In his paintings, death is as tenacious and recurrent as an unsettling thought, oozing up at inopportune moments, the nightmare that never ends.
It does not surprise his son, Dimitri Rimsky, that the veil of death shrouds so many of his father's paintings. Death was the undertow of his father's life, curling in and out with the constancy of the tide. It has been 30 years since Feodor Rimsky's own death, but so choked with death — or near-death — was his life that its haunting enigma is the most consistent theme of his work.
Next week, in homage to the man who continues to confound him, Dimitri will exhibit the complete work of his father, a White Russian who escaped the Communists, only to flee first Germany and then Paris as the Nazis moved across Europe. More than 500 paintings, sketches, studies, portraits and drawings will be exhibited, from the decadent days of the Weimar Republic and 1930s Paris, through the reflective days of the 1950s, when the image of death — as a lover desperate for an embrace — moved through Rimsky's work like a front.
The images, stunning for their classical precision and allegorical power, are as seductive to Dimitri Rimsky now as they were when he was a boy, transfixed by his dashing father who, despite his affection for his son, maintained an abstracted, aristocratic remove.
"He was an odd mixture of extraordinary gentleness and a very disarming aloofness," says Rimsky, 56, of Washington, Conn. "This is a man who had a sense of dignity and formality that comes from another century. If you live through two world wars, if you lose your family, you fight through revolution, you have lost loves, you have lost fortunes, you have lost cultures, it gives you distance. It gives you a perspective that is impossible to comprehend."
For the last 30 years, Dimitri Rimsky has lived with that legacy. He lives in the rustic, drafty carriage house in which he grew up. The signposts and memories are everywhere in the dark corners and dank crevices of a house that is at once cavernous and confining. It is not only his father's work that papers the splintered walls of the former horse stalls, or the leather-bound volumes of Eliot and Maupassant, Chaucer and de Musset that line the coppery wood walls. It is also the scent of his father, the musty, hayloft breath of him that still swirls around the square grand piano and the shelves laden with baseball bats, sleigh bells, sea glass, shells and skulls.
Partly by design and partly by neglect, the Rimsky house is a place that seems from another time. Not only are the original floors and beams resistant to modernization or pretification, the artifacts themselves, from the Sicilian donkey cart axle, to the shelf of fencing swords, to Feodor's unfinished memoirs, carefully typed on onion-skin paper, give the Rimsky household the air of an ancient ruin.
Dimitri Rimsky is chief archaeologist of this personal and artistic dig. Tall and thin with a long, oval face, prominent nose and blue eyes, he is the only child of Feodor and his third wife, a stunning Brooklyn redhead, whose demur gaze and cascading russet tendrils mark the two exceptional portraits of her that hang in Rimsky's cold, dark living room.
She was beautiful, wealthy, talented — and manic depressive. Rimsky's life with his parents, who probably only married to escape the Nazis, he said, was one where the past hung heavy. And although both of them are now dead, it hangs heavy still.
"There is an odd paradox to living here," says Rimsky. "On the one hand, there's an enormous sense of buoyancy that you're constantly banging up against the familiar, the intimate, the sentimental. On the other hand, there is a kind of inescapableness about it. Your life is constantly in your face. There can be a kind of suffocation to it. Most people never experience either the intimacy of it or the oppressiveness of it, so they can live an uninvestigated life. I don't have that privilege."
The story of Feodor Rimsky's life is the story of a man falling through the tumult of the 20th century like water through a wheel. "He may have seen himself as a victim," says Dimitri, sucking gently on a Marlboro Red.
"I think toward the end of his life, in particular, his ego was not assuaged. He had not achieved the kind of artistic recognition he desired, and probably deserved. He was a man of some not altogether unfounded vanities. He came from a rather privileged life and he ended up a rather poor and underappreciated artist in Washington, Connecticut."
The sale of his art is, in part, an attempt to redress that. It is also a visual scrapbook of a life warped by larger-than-life events.
Born to a wealthy Russian family in 1898, Feodor Rimsky was sent to Germany at age 12 to study. When World War I broke out in 1914, he was suddenly transformed into an enemy alien because Russia and Germany were war-time adversaries.
Sent to work in a steel factory as an enemy laborer, he saw men impaled by pieces of flying steel, or evaporate before his eyes as they fell into molds of molten steel.
In 1917, the Russian Revolution left him a man without a country. Russia withdrew from the war, allowing Rimsky to continue his studies at the University of Berlin, where he studied metallurgy and business administration.
As Communists began to terrorize Germany, Rimsky joined the Frei Korps, student street fighters protesting the German-Communist uprising. Because Communists were notorious for hurling grenades down from the roofs of apartment buildings, Rimsky was trained to clamber up the steps of Berlin apartment buildings, open the roof hatch and shoot at any grenade-throwers he found there.
But by the mid-1920s, established in a British industrial firm and owner of a couple of properties, Feodor began his Paul Gauguin-like turnaround. He began to produce art, first for theaters and later for magazines.
In 1925, he served as the court artist for the infamous Fritz Haarmann case, in which a homosexual was accused of killing and dismembering at least 24 of his boy lovers. Later in his life, Rimsky wrote an autobiographical account of the trial, whose grim details still manage to horrify. His son keeps the account with a sheath of his father's papers, reminiscences and official documents in a manila folder in the cramped garret that serves as his office. Among the documents are black-and-white photographs of Pitra La Rochque, his long-legged mother in a page boy costume, her gaze coy and flirtatious.
"My mother was, first of all, very beautiful," says Dimitri. "And I'm sure she knew just what she was doing."
His mother was wearing that page boy outfit on Valentine's Day in 1934 when, as a gay divorcee visiting Berlin, she attended a masquerade ball at the American embassy in Berlin. His father, by then a twice-divorced artist, dashing in a black cape with slicked back silvery hair, spotted La Rochque and escorted her to a shooting gallery booth, where he tried to impress her by asking the attendant to pick up a playing card. Feodor asked the barker to hold the card in profile. The barker complied; Feodor took his pistol and shot the card in half.
"So, my mother thinks, 'Oh my God, he's Gestapo," Dimitri says wryly. In fact, his father had developed his shooting technique while in the Free Corps. But his mother's anxiety was not unfounded. By 1934, the Nazis were making life in Berlin harrowing.
"My mother found that the Nazi government was becoming increasingly repellent to her," Dimitri said. Once, while standing on her hotel balcony, overlooking a courtyard garden, his mother watched two men in black pull a little man out of a car, position him in front of them and ordered the man to run. While he sprinted nervously away, the Nazis talked among themselves, adjusted their gloves and shot him.
His parents, then unmarried, attended a Hitler rally, in part "because you were expected to.... From their point of view, Hitler was this screaming, ranting little man with all sorts of platitudes. That's one of the ironies of the Nazis. The intellectuals had been constrained in their resistance and their silence lent more power to the growth of that fascism because it grew unopposed. They thought that he was just a radical fringe figure. It's a very, very cautionary lesson for us — - the ability of a fringe element to gain power through the silence of the more knowledgeable population."
Anxious to leave an increasingly intimidating Berlin, his mother managed to convince his father to flee to France.
There, Feodor was able to indulge and hone his burgeoning artistic talent. The couple moved into James MacNeil Whistler's former studio, frequented cabarets and cafes like the Deux Magots and continued what their son calls their "mad affair" until 1940, when the Nazis invaded France and occupied Paris.
The couple evacuated on the last train out of Paris, with one suitcase and almost none of Feodor's by-then impressive trove of art. It took another year and marriage for them to obtain the necessary papers that allowed them to flee through the French Pyrenees into Spain, then Portugal, where they boarded a steamer for New York.
There, Feodor's paramilitary training, his language ability and metallurgical skills caught the interest of the Office of Strategic Services, the precursor of the CIA. The OSS was poised to send Feodor back into France, and he would willingly have gone but the OSS believed Feodor's involvement would compromise the work of one of his uncles, who was a leader of the French resistance. Instead, Feodor mapped submarine nets and minefields across New York harbor. Three years after Dimitri was born in 1947, his family moved to Washington, Conn., because, Dimitri says, his aristocratic father thought it was wise to have a boy grow up in the countryside.
There, in a what was a hayloft, his father created watercolors of beguiling precision and poignancy. Although he painted sumptuous portraits of lapidary precision and lavish detail, some of his most compelling works are allegorical images of the figure of death approaching another figure, usually a soldier, in a dizzying whirl.
There are dozens of these images of death embracing a beleaguered figure, man or woman.
The dynamic of that embrace comes from a scene Feodor witnessed of a woman being stabbed by a pimp, his son says. The peculiar juxtaposition of a violent embrace runs through many of these vivid, enigmatic watercolors whose energy is etched with a furious grief.
"Death was an experience that moved through my father's life with incredible vividness," Dimitri says. "I mean, you're 19 years old and you're sleeping in a hayloft with a gun in your hand and somebody whistles and you run up through a building, stick your head up through a hatch, jump up and shoot somebody dead.
"If you have lived through the kind of experiences he lived through, death is not a stranger," he says. "He knew death as a presence. If you don't think of it as a presence, you're only deluding yourself. He understood death to be a presence in his life, always a very intimate presence.
'There's a certain consoling intimacy in that."
n spite of that violent history, some of Feodor's most frequent, and most touching, images are of the Crucifixion. The scene is shown both in deep focus and at some remove. Like most of Rimsky's religious art, it is framed in a swirling midnight-blue tumult out of which ethereal figures — Christ or Mary, materialize. Dimitri says his father was not a religious man, but that he saw in the figure of Jesus Christ both an opportunity to display a range of emotion and a metaphor for man confronting his soul and fulfilling his spiritual destiny. "It's the turmoil within yourself to come to some understanding of your own spirituality that is the true power of the example of Christ. It is his holding to his spiritual belief that is our example to follow. Every human being has that struggle within himself."
Whether his father resolved that is as mysterious to his son as some of his more apocalyptic images. Not only was Feodor thrust about by the forces of history, but by the fast-moving shifts in art.
Watercolor, particularly of the neo-classical variety Feodor practiced, was rapidly fading from the artistic radar in the 20th century. As much as Rimsky resists classification as a human being, he defies categorization as an artist. "He was all over the map," says Dimitri. "The fanciful ones tend to have something more to do with a kind of romanticized classicism. He is taking the classical and putting it into a kind of dreamlike fantasy world."
Dimitri Rimsky, who has worked as everything from a booking agent to a mime, hopes to secure his father's artistic legacy. But sorting through the hundreds of artistic works, as well as his father's written reflections on his life, has been an emotionally exhausting task. Deciding what to keep and what to jettison is a difficult task in the life of any child left with his parents' estate.
But it is particularly difficult for the only child of an artist, whose legacy was rich and complex.
He is hopeful that the sale of his father's artistic estate may help him establish a foundation to help the heirs of artists determine what to do with what can be a cumbersome legacy. "It's not like furniture," Dimitri says, picking up a pencil sketch of a chorus girl, done in 1933.
"That's my father's hand. That's a living thing. It has the life of the moment in it. So you can't dismiss that like it's nothing at all. That's the great dilemma of art. The other aspect is, how do we know what we're losing?"
The retrospective exhibition of Feodor Rimsky's complete works will be on display at the Bryan Memorial Town Hall April 25 through 27.

© 2003 Republican-American