What I know about my father's life is more like a tribal story than a Biography, in time I will endeavor to tell that story in the meantime here is a brief bib.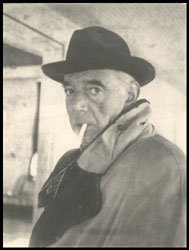 According to the few remaining documents of my father's life he was born on May 6th, 1898 in Alder-Kosteletz, Czechoslovakia. Although he was know to me as Feodor Konstantin Rimsky, the documents state his name as Fritz Rotstadt also known as Rimsky and that he was married to Pitra Rotstadt; my mother. Who these people really were and how they came to live out the latter part of their lives in Washington, CT; is a mystery of which I only possess the vaguest of clues.
What I do know is this. My father was sent from Tula, Russia to Berlin, German at age twelve to attend a boarding school call the Grey Cloister. He lived with a family on Unter den Linden street, whose daughter, Ursula, he later married. In the meantime World War I began, rendering him an enemy alien and in accordance with the Geneva Convention, he was put to work at non-military labor. He worked in a steel foundry, I believe in Hanover, where he was billeted with a war widow. He claimed she kept him alive with food from country relatives. I suspect this "widow" may not have been innocent in her motives to keep this young man health nor as old as the word widow implies. When Russia withdrew from the war due to the revolution, he was no longer an enemy alien but he also no longer had a home to return to and became a "stateless Russian" the official status of all White Russians. He returned to Berlin, to school and to Ursula. At the end of the World War Germany was thrown into political and economic chaos. A Communist uprising began, without an army the government enlisted student volunteers to fight the insurgents, this force was called the Free Corps, and he was active in the urban fighting till the uprising was put down.
At this point he was finishing his studies at the University of Berlin and beginning his career as an artist. His first illustrations began to appear in the Playbills of the Brecht-Reinhardt Theater and other theaters and he did court sketches of the mass murder Harmon, book covers and advertising work. He also had a business career, held several patents and owned properties. He had married and divorced Ursula, and another woman named Edith, I have no idea if there were children but at some time in the early thirties he meet my mother at an embassy masquerade ball on Valentine's day, but their affair began in a rising Nazi Germany. Soon at my mother's urging he moved to join his mother and sister, devoting himself to his painting in the rich creative air of 1930's Paris while living and working in Whistle's former studio. Their active life in café society was short lived, World War II broke out in September, 1939; within a few months they were refugees living in the south of France. It was during this period that they were married and with the help of my father's brother in law they escaped across the Pyrenees into Spain. Lucky for them my uncle was in the French Secret Service and used them as cover for getting vital underground contact names out with them. The newlyweds departed Lisbon for the U.S. arriving in New York late in 1941.
Upon his arrival the O.S.S. enlisted him for a possible return trip but since this could jeopardize his brother in law's position in the resistance, they used his drafting skills drawing the submarine defenses of New York harbor. He also resumed his painting career, moving into La Farge's former studio in the famous artist's building at 51 west Tenth where he worked till it was demolished in 1957. I was born in 1947, and was taken to France nine months later, where my father discovered that all his artwork had been lost or destroyed during the war. In 1950 we bought an old carriage house in Washington, CT; where both my parents lived to the end of their lives, my father in 1976 and my mother in 1994, and I still live. Throughout the 50's and 60's my father worked as an illustrator, doing book covers most notably Fulton Ousler's million sellers "The Greatest Story Ever Told" (the New testament) and "The Greatest Story Ever Written" (the old testament) and other commercial commissions. In 1959 he executed a 30' mural depicting the Washington train depot in the mid 1800's for the Litchfield Savings Bank, where it is currently on display. He also participated in many local theater productions as a set and costume designer. Through out his life he painted many portraits, and a wide range of religious and allegorical works, refining a pure watercolor technique of remarkable detail. All his creative works reflect a life filled with the experiences of the 20th Century as seen through the eyes of a man rooted in the rich heritage of classical European art and culture. What will be exhibited at the Bryan Memorial Hall in Washington Depot from April 25th to the 27th is no less than this life's work in its entirety and perhaps some clues to its mystery will be revealed.