If you wish to contact me in reference to my father's artwork, Exhibitions or this website email:
Dimitri Rimsky
Press Release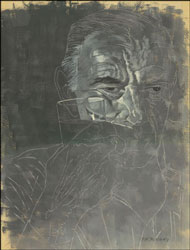 For Immediate Release:
A retrospective exhibition of the complete works by Feodor Konstantin Rimsky will be on display at the Bryan Memorial Town Hall for three days only, April 25th, 26th & 27th. Mounted as a "studio show" this extraordinary collection of paintings sketches, studies, portraits, landscapes, and drawings will be proof that Rimsky was a master painter who deserved, during his lifetime, greater recognition and appreciation than he apparently had. It leads to the question will Feodor Rimsky join the artists who will be famous posthumously?

Born in Tula, a town south of Moscow, at the turn of this century, he went to "The Gray Cloister" boarding school in Berlin at the age of 12. World War I turned him into an enemy alien working in a steel factory under the Geneva Convention rules. The Revolution forced Russia to withdraw from the war, so as a Stateless Russian with no home he continued his studies at the University of Berlin. He also participated in the Free Corps, student street fighters protesting the German-Communist uprising. Although established in business and holding several patents he also began his artistic career doing illustrations and sketches, playbills for the Brecth- Reinhardt theaters, and other publications. Some of these original book covers will be on display.

Moving to Paris in the early 30's he married Pitra La Rochque, an American, took over Whistler's studio and began working on a concept of the Crucifixion which was to be 17 feet in height. This work was lost during the German occupation of Paris and only some studies are left. During this period he also drew portraits of French Government officials and signed them "ODEFE", his secret service code name. Some of these are displayed in the show with other works done in France and brought here when he and his wife arrived in New York in 1941.

Their son, Dimitri Dumont, was born in New York in 1947 and in 1950 they moved to Washington, CT and renovated a carriage house into a home-studio while still maintaining a studio-home in the famous 51 West 10th Street artist's building. During this period he did commercial and illustration work: most notable were his book covers for Fulton Oursler's Books, "The Greatest Story Ever Told" and "The Greatest Book Ever Written". Among his contributions to the Washington community were his designs for the theatre-plays in St. John's Church, for the Wykeham festivals, and many sets and costumes designed for the Dramalite productions. He also painted the 30' mural on display in the Litchfield Savings Bank (now Litchfield Bankcorp) depicting the train depot in the mid-1800s'. Rimsky was also a founder and life member of the Washington Art Association.

This will be the first time this vast collection of works created by this exceptionally productive artist has been exhibited in its entirety since his death in 1976. The exhibition will open with a preview party on Friday evening, a talk and walk through on Saturday evening, conducted by the artist's son, and the closing of the silent action on Sunday. The show will be open from 10 a.m. till 8 p.m. over the weekend. For further information and details about the exhibition contact Dimitri Rimsky, email: rimsky3@hotmail.com.