Family Gallery — Family Album • Past Lives • The House

A "Family Gallery" in this case is really more of a collection of enigmas, some tell their own story, some remain silent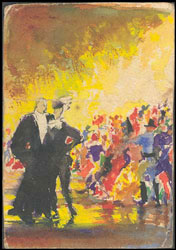 My parents met on Valentine's Day, at a masquerade ball hosted by the American Embassy in Berlin. I'm not sure what year it was but it was sometime in the mid-early 30s'. The picture is the only image of that meeting I have ever found, except for the photo of my mother, modeling the outfit she wore (Family Album). The story goes like this: My mother an American Divorcee, was traveling in Europe, she claimed she was in Germany to hear Wagner in the mother tongue! Maybe, anyway she went to this embassy ball dressed as a page boy, in this little black velvet outfit and black tights. My father, a White Russian living in Berlin since before W.W.I. was an artist, also recently divorced (for the second time). He was also in Black, that is black tie and tails, covered by a black domino cap, his silver hair made him look very distinguished. They were the only two people in black and so naturally they met. One of the amusements offered was a shooting gallery; he offered to win her a prize. Rather than just shooting the heart out of a card, he asked that they turn the card on profile and he shot the card in half! Did I mention he was a good shot? Did I mention why? I'll tell you later. Anyway, my mother was a bit suspicious, thinking he was Gestapo, he wasn't, far from it. So this began their affair but what about all the other people in the gallery? Who are they? Well, I'm not really sure. In preparing this site I went through lots of old photos and to my surprise I realized that I might have discovered another family, among other things. I'll tell you what I know and what I surmise, its quite a story. By the way did I mention that today is Valentine's Day, isn't Life strange?