Figurative — Fashion • Figures — Click image to enlarge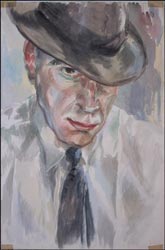 This Gallery is devoted to Fashion and female nudes. Although I don't know what my father did with his fashion work, I do know Lilo, she has been lying about my house for years. She is a pure, Lifesize! watercolor, there is more to her story than this but it will have to wait.
It should be obvious that this site is far from complete so bear with us, and come back soon.