About the Artwork and how these galleries are catorgorized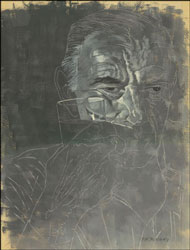 Each Gallery represents an area of work excecuted by my father over his lifetime. Where ever possible dates and reference information has been provided on the page with the enlarged image along with size, medium and title (if such exists). In many cases, I have titled these works to identify the subject matter, or to clarify their relavance within a body of work. Brief intoductory comments may appear on various gallery pages to give you some insight into the history or nature of that body of work.
It should be obvious that this site is far from complete so bear with us, and come back soon.